20-01-2021
|
Dermatologist
|
Acniover
Acne or maskne? GAME OVER!
Or, in other words: is maskne caused by wearing a mask? Are pimples part and parcel of adolescence? Should blemishes and excess oil be expected in adulthood? ACNIOVER! Winning at the acne game, in all its types and forms, is possible...and even pleasurable!
But before going into that, let's look at this new type of acne called maskne. 
Regular mask-wearing during Covid-19 is causing more acne among people who already had it and new acne in those who either never have or thought their skin problems days were behind them. This new type of acne has been coined 'maskne'.
The area where it occurs is obviously the parts of the face hidden by the mask, i.e., around the nose, mouth and chin. It starts with the contact and subsequent friction of the mask against the skin, clogging the pores. Moisture is also created inside the mask because of breathing, heat, humidity, sweat and more. What happens then? Dark spots, pimples and blackheads.
Whatever type of acne you have, at MartiDerm you will find the right partners to fight it:
Acniover Purifying Gel
Acniover Serum 
Acniover Active Cremigel
Acniover Cover Stick 
Acniover Night Renew Cream
Acniover Soothing Mask
Acniover Capsules
In the morning and at night, Acniover Purifying Gel is the first step in your anti-acne and blemishes routine. It deep-cleanses WITHOUT drying the skin thanks to prebiotics, green tea and witch hazel extract.
Acniover Purifying Gel (200 ml)
In any facial routine, serum is a skincare essential that must be used BEFORE moisturiser. Acniover Serum balances and regulates the skin pH thanks to its content in prebiotics, probiotics and lotus flower extract. It is especially recommended for the mornings.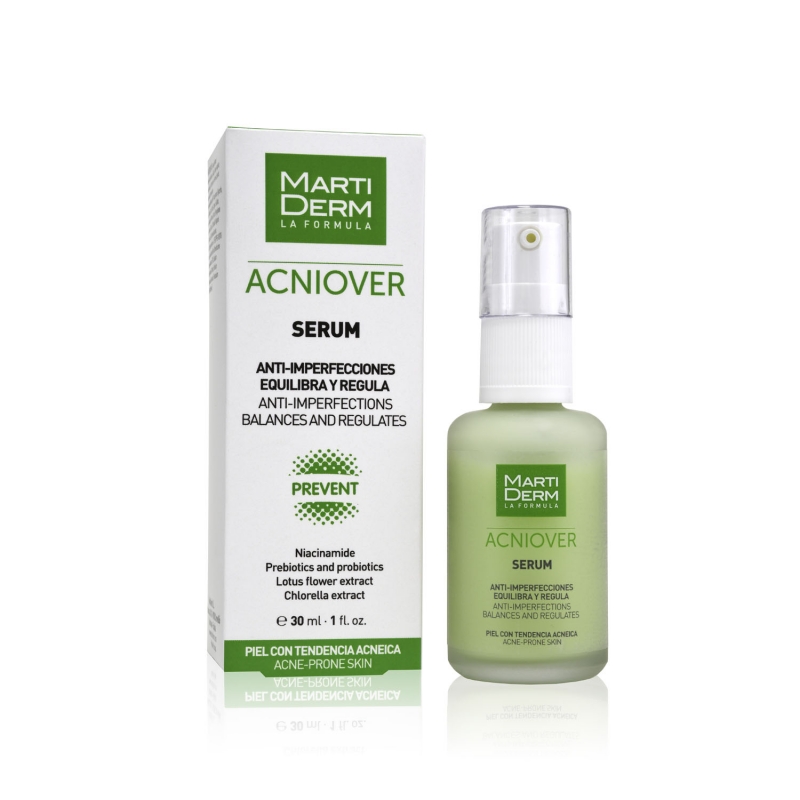 Acniover Serum (30 ml)
Acniover Active Cremigel is an ideal moisturiser for acne-prone skin since it maintains the degree of hydration but reduces oil secretion, minimising blemishes. It should be used every morning AFTER serum.
Acniover Active Cremigel (40 ml)
Unexpected pimple you want to cover up? Try Acniover Cover Stick: it not only conceals but reduces and dries, too! And the best part? You can even carry it in your POCKET.
Acniover Cover Stick
Every night and ALWAYS, ALWAYS after cleansing the skin with Acniover Purifying Gel. Ingredients include salicylic acid and nicotinamide to reduce blemishes and minimise clogged pores but also stimulate skin regeneration - a key process in getting rid of acne and blemishes.
Acniover Night Renew Cream (40 ml)
One of the star Acniover products with a DOUBLE function: to fight acne and at the same time let you relax and enjoy a bit of downtime. Use once a week to reduce blemishes and for the mattifying effect. 
Acniover Soothing Mask (5 masks)
Acniover's Trojan horse: Acniover Capsules attack the enemy (acne) from the inside (you take the capsules), encouraging prevention and skin maintenance thanks to ingredients including prebiotics and probiotics that balance the microbiota and the POWERFUL sebum-regulating action of vitamin B3.
So simple to use: take 1 capsule every day for at least 3 months. 
Acniover Capsules (60 capsules)
If you're reading this - no matter how old you are - it is very likely you have acne or skin blemishes. The good news is that now you also have the best partners to fight these problems that can be so demoralising. So, chin up, be consistent and together we will win this battle! ;) 
---