10-02-2021
|
Dermatologist
|
Facial Care
Cream - an essential classic.
There has been a significant rise in dermocosmetic products as part of our facial routine in recent years. They fulfil a particular function by adding to and powering results but have not, however, replaced traditional face cream. 
Confident of their virtues, MartiDerm produces treatment creams pivoted to different skin needs and types. Our creams combine key active ingredients in formulas that not only work but are also made with exquisite cosmetic qualities to ensure their effective, pleasant and indispensable use in the care of our skin.
But what makes a cream so necessary? 
We can sometimes think we do not need to use a cream if the formulas of serums and ampoules have a higher concentration of active ingredients. Some people, especially those with oily skin, might also feel that creams exacerbate their problem or that they do not need them in summer.
What do serums and ampoules do and what do creams do differently?
Serums and ampoules have more specific actives to firm, restructure and brighten skin or provide an antioxidant effect, among other features. They also have a lightweight, fast-absorbing excipient that enables maximum penetration of the active ingredients.
The main purpose of creams, which can also contain dedicated active ingredients but generally in a lower proportion, is to provide lasting moisturisation and to protect the skin. They also create an invisible barrier and reduce transepidermal water loss. 
In other words, cosmetically speaking, serums and ampoules 'treat', while creams 'moisturise and protect'. This means they complement each other perfectly.  
Furthermore, cream formulas, whether w/o (water-in-oil) or o/w (oil-in-water), help us see that there are richer and less-rich textures that can be adapted to each skin. Facial creams can also provide other protection barriers, such as chemical and/or physical sunscreen, and compounds designed to stop polluting molecules from adhering to and attacking the skin. 
Creams to use specifically at night provide nourishment and intense moisturisation, along with dedicated actives that power the natural renewal system that occurs overnight.
This means that even the most active product will need to be followed by a facial cream as the final step in the facial care routine morning and night, all year long.
Should we choose a treatment cream based on our age?
The skin is an organ in constant evolution that shows its shortcomings and imbalances not only according to age but particular circumstances. Our diet, lifestyle, the aggression to which we subject it and the care we take of it will determine our general skin health, in addition to changes related to chronological age. These are the things we usually call 'signs of aging', i.e., wrinkles, loss of firmness, duller-looking skin, dark spots...
So, 20-year-old skin will not need the same type of creams that 60-year-old skin does because its production levels of collagen, elastin and sebaceous secretion are at their peak. What it will require is a product with moisturising properties but a lighter composition and texture. 
But there is no general rule, so mature skin might be oily or even need cream to keep acne at bay, whilst young skin may show signs of premature aging. We therefore need to choose creams considering the real situation and our skin's requirements apart from age.
Do creams stop working because the skin gets used to them?
One of the big myths around facial creams is that we should change them regularly because the skin gets used to them and they stop working. In fact, it is our skin that can change and need a different treatment, but not because creams have a certain time limit on effectiveness. When you use a new cream, you feel it working and note the novelty of its benefits in the texture of your skin and how bright and firm it makes it, etc. As time goes by, we stop seeing this positive outcome, but it is just a question of perception and senses.
So which facial cream should I choose?
As we said at the start, at MartiDerm we have developed several lines and creams in accordance with different skin needs. These are some examples.
SIGNS OF PHOTOAGING: VITAL-AGE
Skin showing signs of photoaging can use either of the two versions of Vital-Age Day Cream, i.e., for dry skin or for normal/combination skin. They both have a globally renewing night-time supplement in the form of Vital-Age Night Cream. The three creams are from the Platinum range.
GF Vital-Age Cream for normal/mixed skin has a mattifying effect on the skin. It improves skin texture while also moisturising, repairing and protecting, since it contains an epidermal growth factor and moisturising complex.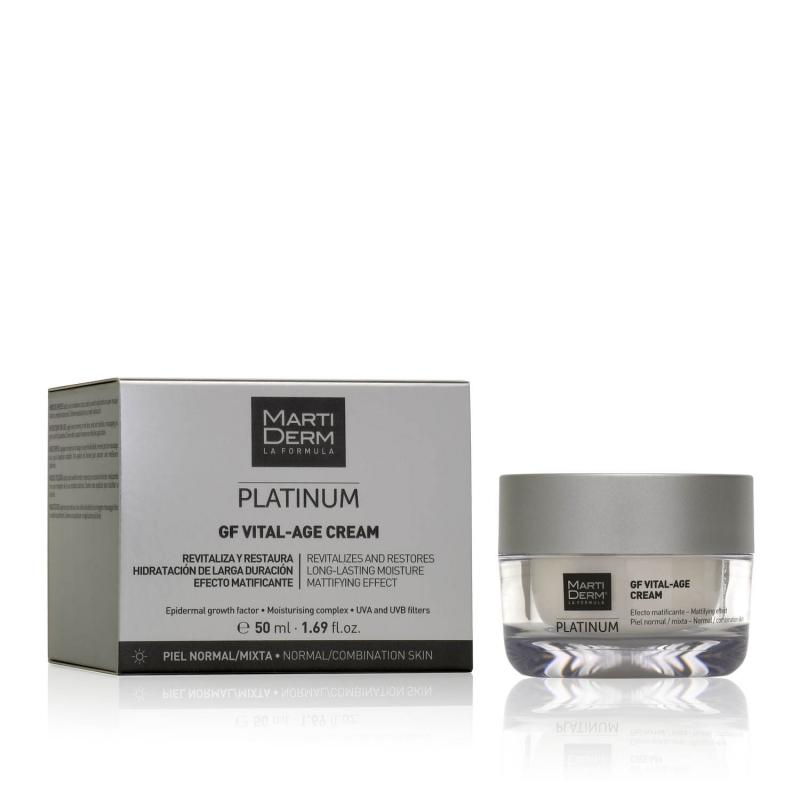 GF Vital-Age Cream for dry skin has a brightening effect on this skin type. It improves skin texture, moisturising, repairing and protecting thanks to the epidermal growth factor and moisturising complex. The jojoba and argan oils that it contains also deeply nourish.
GF Vital-Age Night Cream restores the skin from daily aggressions, makes it firmer, moisturises intensely and evens tone. It restores vitality to the skin.
ADVANCED GLOBAL CARE: EPIGENCE 145
For mature skin or skin after global care with innovative textures and the most advanced epigenetic technology to counteract and prevent aging and its signs, without relinquishing the most pleasant sensorial experience, Epigence 145 Cream and Epigence 145 Sleeping Cream from the Black Diamond range are MartiDerm's most advanced response. 
The difference between Epigence 145 Cream and its night-time counterpart Epigence 145 Sleeping Cream is that the former plays an antioxidant role while the night cream soothes and is anti-inflammatory, important for cell repair.
Epigence 145 Cream is designed to reprogramme the skin and delay the signs of aging. Its smart ingredients act at three levels to reactivate the cells' capacity for regeneration, boost the production of hyaluronic acid, collagen and elastin, and make the skin firmer and more elastic. It also contains vitamins to brighten the skin and even tone. 

Epigence 145 Sleeping Cream encourages cell renewal at night, making skin firmer and more elastic and reducing wrinkles. The enriched texture has a calming and comforting effect.
---